Fortune Indonesia Attends the AdAsia 2015 Taipei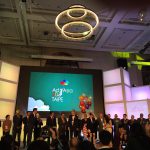 Fortune Indonesia attended the AdAsia 2015 Taipei event series which was held for three days, November 23-25, 2015, at Marriott Hotel, Taiwan. Represented by Aris Boediharjo and Indira Abidin as the Board of Directors, Fortune Indonesia was present as a participant along with 49 other Indonesian delegations from advertisers, advertising, and media agencies.
AdAsia 2015 Taiwan started its series with Welcome Party on Sunday, November 22, 2015. Located at YangMing Chungsan Hall, the  AdAsia 2015 delegations were warmly welcomed by Hsu Yu Chien, President of Ad Asia 2015 Organizing Committee, Pradeep Guha, President of the Asian Federation of Advertising Association( AFAA), and Ni Chung-hwa, Commissioner of the Department of Culture. In his speech, Guha expressed his full support of AFAA and his excitement to welcome the delegations. He also congratulated Taiwan on the success of hosting the World Design Capital 2016.
AdAsia 2015 Taipei will be held for three days, 23-25 November 2015, at Marriott Hotel, Taiwan. Indonesia is represented by 50 delegations from advertisers, advertising, and media agencies.
Various events in the world have become challenges for the Asian advertising industry to be able to compete responsibly in the international arena. We all realize Indonesia has the largest population in Asia. This is a big challenge. Advertisements can change people's lives; the question is whether our industries have prepared the talents and resources to answer the existing challenges?
Many companies have now become media companies. Mobiles have made media on demand for 24 hours a day. Are we ready? We give the freedom of choice to the consumers. We must always be relevant and therefore, we must be responsible in carrying out our duties on an ongoing basis.
In the next three days, we will listen to experts sharing the ideas that will determine the future of the advertising world. We come with our nationalism and I hope we will leave Taipei as friends.