Closing out 2017, Fortune Group Collects Awards at the National Event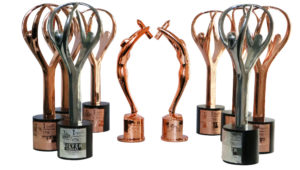 Fortune Group successfully closed the year 2017 with proud achievement by earning ten awards in the national advertising event, Citra Pariwara and Pinasthika Creativestival 2017.
At Citra Pariwara Festival held on December 8, 2017, in Jakarta, Fortune Indonesia was awarded two bronzes for the Print – Art Directing (Print Craft) category for their work with Alexander Faber Castell and HMS Victory Fabel Castell.
At Pinasthika Creativestival 2017, Fortune Indonesia was presented with eight awards at once, two silvers and six bronzes for the category of Bawana Print, Bawana Outdoors, and Craftsmanship Poster for their work with Sutra Outdoor, HMS Victory Faber Castell, Tyrannosaurus Faber Castell and Alexander Faber Castell. The awards night took place on December 16, 2017, in Yogyakarta.
"Originality of ideas, strong insight, and craftsmanship are still the key elements of a work. As creative people, we need to consistently apply the principles in every task or project," said Randy Rinaldi, Executive Creative Director of Fortune Indonesia after receiving the award. He also revealed that he and his team will work harder to generate insightful ideas with more detailed execution, making it even more stunning & relevant for both the audience and consumers.
Previously, on November 29, 2017, the Activator Team of Fortune Indonesia was successfully awarded "The Best Brand Image & Engagement Program" for the Ecorun program in The Most Experimental Brand Activation Award 2017 initiated by MIX Marketing Magazine.
Fortune PR's three other works also won awards in the event Indonesia PR of The Year held on Tuesday, October 31, 2017.
The three awards include Best of The Best Creative PR Program for DBS BIG: Bring Indonesia to Global Creative Business Challenge 2016, The Best PR Marketing Program for BTN Property: Dream House, and The Best Social PR Program for MUNDIPHARMA: Bring More to Life.