Samuel Shekhar Sucipto Leads Navya, the Digital Business Unit of Fortune Indonesia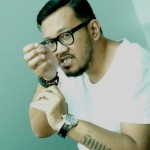 Jakarta, 18 September 2017 – Samuel Shekhar Sucipto is officially designated as Business Unit Director who will lead the digital business unit of Fortune Indonesia as of September 2017. Navya is a business unit of Fortune Indonesia that has been focusing on providing communication services and digital based campaigns for more than 7 years.
"We are delighted to have Samuel as a part of Fortune Indonesia's big family. We believe that with more than 17 years of experience working in the advertising industry, Samuel will strengthen our Digital team in supporting our clients' business performance," said Edhy Bawono, Chief Operating Officer, Fortune Indonesia.
"It is Fortune Indonesia's commitment to providing the best talent as part of the business solutions we offer," Edhy added. By establishing the best team in the field, he believes that this action will improve the company's performance.
"I am excited to be part of this dynamic team and will strive to improve the quality of Navya's services and provide an effective business impact for our clients through innovative campaigns," concluded Samuel Shekhar Sucipto.
Looking at his professional track record before joining Navya team of Fortune Indonesia, Samuel Shekhar Sucipto has the experience of working at several local and multinational advertising agencies such as Ogilvy & Mather, Publicis Indonesia, Hotline, Gray group, DDB group, N3O, and Narrada Communications. Samuel last served as Business Director at Colorist Advertising.
Throughout the course of his career, Samuel has the experience of working with the leading local and global brands such as Ponds, Sariwangi, Telkomsel, Indosat, XL, Bank Mandiri, Heinz ABC, Orang Tua Group, Garuda Food, BintangToedjoe, Essilor, Morinaga Kino Indonesia, Pfizer, AXA Mandiri and Pertamina Lubricants.
About Fortune Indonesia
For over 45 years, we have helped spark off successful brand stories for major blue chip brands as well as both multinational and local brands. With unrivalled passion, we masterminded innovative strategies to roll our high awareness creative campaigns that fueled business revenues.
Fortune Indonesia is proud to be a multi-faceted hot house with diverse specialties in communications; distinguished by spontaneity and agility within a highly integrated structure, and focused on providing smooth and professional business solutions to our valued clients.
As Indonesia's first and only agency listed in IDEX, Fortune Indonesia is now in the global spotlight as a key integrated communications player with a most promising & vibrant future ahead.